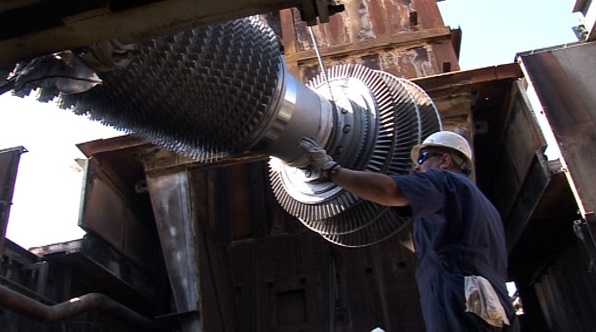 Field Services

Field services of TUGA-Franco Tosi Meccanica, covers a wide range of activities at clients site, from a relatively simple part replacement to a complete overhaul.
Our services - Field Services
Modernization

Spare parts procurement and low efficiency are two major concerns in dealing with old plants. With the help of modernization option provided by … old version of machines can be easily upgraded.

Upgrades

Redesigning components and even making some change in controlling tasks which have direct impact on machine efficiency is one or our programs to boost plant operation. Employing new materials, coating and modified parts are a proportion of offers we make for turbomachinery upgrade.

Retrofits

In line with offering wider range of power augmentation options, we have provided a package of simple and easy-implemented retrofits which have a significant influence on plant efficiency.

Troubleshooting

Eliminating any form of malfunction of turbomachinery and their associated control system and auxiliary equipment is our proficiency. Rely on expertise of our experts and have all your problems disappeared.

Maintenance Contracts

We provide maintenance for your plant in different types of contracts.

Part Replacement

We supply all the main spare parts in Gas Turbines, Steam Turbine, Hydraulic turbines and compressors.

Unexpected failures services

Turbomachinery is subject to unpredicted failure over the service life. In such case, rapid, accurate and cost-effective repair is highly demanded. Thanks to our expert and implementing teams we can help out our customers by doing all required repair work and engineering support to resolve technical problems. Additionally, supplying all required spare parts is another service we can provide as well.

Overhaul (Medium, Major, Hot Gas Path Inspection)

Regular inspection of turbine, generator or compressors guarantees safe operation and performance maintenance. For these reason, they should necessarily go through inspection at recommended intervals. Assembly, adjustment, part replacement and refurbishment of worn components are just a part of what we can do in this regard.

Life Time Extension

At the end of the design life of any turbomachinery, further operation would not be safe. Thus, it is highly recommended to take some specific actions to prolong the machine life. Inspection of parts subjected to deteriorating agents, NDT inspection and other actions assuring us if likely damaged parts are rejected or can securely operate for more specific period.