News
ITALIAN EXPERIENCE, IRANIAN MOTIVATION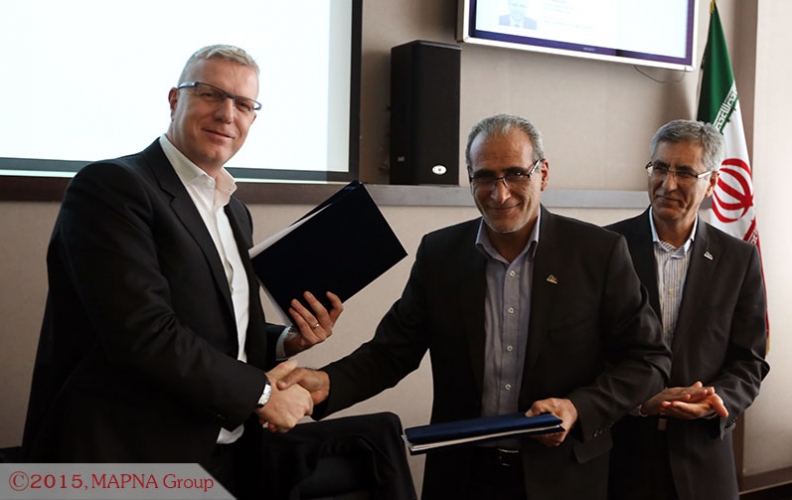 Saturday, December 2, 2017
The inauguration ceremony was hosted by MAPNA on Monday morning in its central office in Mirdamad Boulevard in Tehran.
The agreement to establish the joint venture was signed by top managers of MAPNA Turbine Engineering and Manufacturing Company (TUGA) and the Italian Franco Tosi Meccanica, which is owned by Bruno Presezzi S.p.A. The new industrial body will be called "TUGA Franco Tosi Meccanica" Joint Venture Company.
Franco Tosi Meccanica specializes in design and manufacture of steam and hydraulic turbines and different types of compressors.
The joint venture is considered another effort by MAPNA in its strategy of diversifying basket of products and maximizing customer satisfaction.
MAPNA President Abbas Aliabadi spoke of the group's determination to start a new round of cooperation with international companies. "MAPNA aims to have a stronger presence [in the global market] and offer more efficient solutions through establishment of companies such as TUGA Franco Tosi Meccanica," he said. Aliabadi also pointed out to cooperation with Siemens to manufacture 300 MW turbines.
Referring to Franco Tosi Meccanica's 134 years of history in the business, Aliabadi stressed that the combination of the Italian company's experience and MAPNA's motivation can create capacity for powerful initiatives. "Diversification of steam turbines and conversion of gas units into combined cycle plants save 10-12 billion USD per year," MAPNA President reminded the audience. "The curb on CO2 emission will also have positive outcomes in terms of environmental conservation".
LIKE ONE COMPANY
Alberto Presezzi, President of Bruno Presezzi S.p.A, also expressed satisfaction with establishment of the joint venture. Pointing to his experience of collaboration with MAPNA since 2002, Presezzi stated that bilateral ties between the two companies go beyond business, and are now a matter of friendship. "We worked with MAPNA like we were a team … and now we are actually one team" Presezzi said. Stressing the Italian company's capability to produce tailor-made turbines, Presezzi stated that "design and procurement of material will be done in Italy, and manufacture will take place in Iran".
Mauro Bianchi, Sales Director for Bruno Presezzi S.p.A and Franco Tosi Meccanica also spoke to the audience. Bianchi, who has held the position since early 2014, presented a timeline of Franco Tosi Meccanica's activities in the turbine business since 1881.
COMPLEMENTING THE PRODUCT BASKET
TUGA CEO Majid Bahmani who was the next speaker of the event stated that the joint venture, TUGA Franco Tosi Meccanica, plans to complement TUGA's product basket and present it to the regional market. Bahmani laid out the structure of the joint venture for the audience, stating that TUGA and FTM have agreed on a 55-45 share basis, with the larger share owned by the Iranian side. Along with Mohammad Owliya from TUGA and Mauro Bianchi from Bruno Presezzi S.p.A, Bahmani will serve on the managing board of the newly established joint venture.
TUGA Deputy Managing Director Mohammad Owliya was the last speaker of the ceremony. Referring to Iran's economic potentials in the post-sanctions era, Owliya reminded the audience that MAPNA, a key actor in Iran's power industry, "intends to expand its activities in the global market." He called the establishment of the joint venture an opportunity which will pave the way for MAPNA to enter the South America market, and assist Franco Tosi Meccanica in taking a share of the Middle East and Africa markets.